The Smart Studios Story – DVD Premier on Record Store Day 11/25/16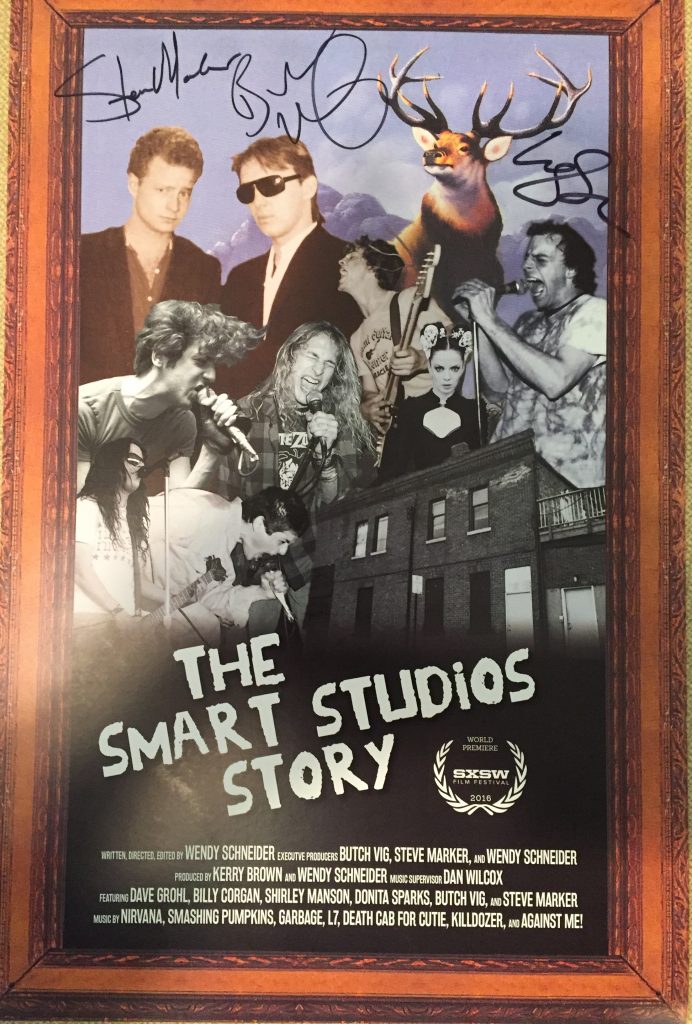 Jim Berkenstadt, aka the Rock And Roll Detective, was privileged to serve as the historical consultant on a new film documentary about Smart Studios; that launched no less than some of the greatest bands of 1990s alternative rock.
The Smart Studios Story DVD has just been released on Record Store Day (11/25/16).
Here is a brief history of the studio that was started by musicians and producers Butch Vig and Steve Marker.
Sometimes a building is just a building, and a recording studio is just a recording studio. Cities around the globe create historical landmarks out of famous buildings and their associations. We tend to get sentimental sometimes when we think of buildings in our lives and the associations attached. Smart Studios in Madison, Wisconsin is one such building. It is a building where careers have been launched for artists and producers alike; a studio with a dizzying array of alumni; and a vibrant artist's workplace that continues to reinvent its long legacy and heritage of American music at its finest. Just as we pay tribute to Sun Studios in Memphis and the RCA studio in Nashville, we should also take notice of a little building in the Midwest that serves as a workplace, hangout and home to many talented musicians and audio architects.
Located in the tree lined shadows of Wisconsin's State Capitol along beautiful Lake Mendota, Smart Studios has the been the setting for recordings, mixes and remixes of some of the greatest bands in modern music history.  The list reads like a Who's Who in Rock Music – Nirvana, Fall Out Boy, Smashing Pumpkins, Garbage, Death Cab for Cutie, Beck, L7, U2, Sparklehorse, Everclear, DJ Danger Mouse, the Jayhawks, Freedy Johnston, Poster Children, Son Volt and many more. Artifacts from these sessions line the studio walls with album covers and RIAA platinum Awards.  Rock and Roll Hall of Fame (and former James Brown) "funky drummer" Clyde Stubblefield has called Smart his "recording home".  In the jazz and pop field, internationally renowned keyboard player Ben Sidran (Boz Skaggs, Van Morrison, Steve Miller Band) has recorded his albums here.  Even the lost live recordings of Big Band greats Jimmy Dorsey, Woody Herman and Stan Kenton, have been digitally remastered at Smart Studios (produced by this author) for an album series entitled: Live at the Edgewater.  A twenty-plus year track record of musical history reverberates from the red brick walls of this two-story state-of-the-art facility.
Smart Studios was the brainchild of co-founders Butch Vig and Steve Marker. The idea for Smart started back in the mid 1970's when the two met while attending the University of Wisconsin Madison. According to Vig, "Steve had a four-track tape recorder in his basement.  That is actually where the original idea came from. We spent a lot of time recording all kinds of strange stuff down there."
While honing their craft as young Producer/Engineers, Steve and Butch both played in local rock bands.  Butch helped form a rock band with guitarist Dave Benton, (future Garbage producer/guitarist) Duke Erikson and others called Spooner.  Spooner would enjoy a popular following in the Midwest with their original compositions recorded in Steve's "Smart" basement.
In the early 80's, Vig and Marker wisely stayed involved on both sides of the studio glass as musicians and producers.  The co-founders moved their studio into an old Madison factory known as The Gisholt Building.  However, the partners had little in the way of recording gear.  Undeterred, Steve sold a guitar and Butch scrapped together some cash, as the two invested $2,200 in an eight-track tape recorder and a couple of mikes. The lack of gear forced the two to expand their creative efforts to get a good sound.
Creativity has always been the cornerstone of Smart's mission.  As Butch recalls, "I think part of the reason some of those early records turned out okay was that I came from such a pop background where I wanted to hear separation of things.  If there was a hook in the song, whether the hook was fucked up or an atonal guitar riff, whatever I thought was the key, I'd try to always make sure that it was focused.  Even if I had crummy mikes, I would do whatever I could from a listener's point of view to try and get it so it sounded good.  Even if a band had crummy gear and the band sucked, I still wanted it to sound good."
Soon Marker and Vig were recording anyone who walked through their door.  The inaugural recording of Smart Studios was an album called Bitter Pleasures, followed by an album by the band Sometimes Y, which featured Replacements guitarist Paul Westerberg guesting.  Very quickly, word spread through the Midwest that Smart Studios was the place for independent punk and skateboard bands like Tar Babies and Killdozer to record their music. The place was cool and the price was right, a tradition that vanished as music technology advanced into the next century.
But The Smart Studios Story documentary relieves the heyday of a great studio that made music history.
In the late 1980's, Vig and Marker made the move to purchase their own building to house their busy studio.  After moving into their new two story brick building, Marker and Vig toiled seemingly in obscurity, perfecting their craft and playing in rock bands.  However, from as far away as New York City and Seattle, others were listening.  Jonathan Poneman at Sub Pop Records in Seattle had heard Vig's production work for Chicago band Killdozer, and asked if Butch would like to record his trio when they came through Madison… an unknown little band called Nirvana.  Meanwhile, Sonic Youth's Thurston Moore was collecting many of the early Smart punk records on vinyl and he kept seeing the name Butch Vig in the production credits.
Once Nirvana and Smashing Pumpkins broke out as two of the most important bands in the Nineties, Smart Studios became internationally known for its great vibe, cool sounds and laid back production crew.  Butch and Steve wisely re-invested their money into an upgraded, state-of-the-art facility; the best in Hi Fi gear (while saving the Lo-Fi tubes and analog gear) and added to their growing staff of engineers, mixers and producers to handle the flood of new found work.  In recent years, Smart's production crew has included: Mr. Colson (Smashing Pumpkins, Paw, TAD, HBO Reverb); Mark Haines (Son Volt, Poster Children, Jayhawks); Mike Zirkel (The Promise Ring, Suede, Garbage); and Sean O'Keefe (Lucky Boys Confusion, Motion City Soundtrack, Knockout).
In the mid-1990's, Vig, Marker and Erikson got busy creating remixes for major artists including: U2, Beck, House of Pain, Alanis Morissette, and Nine Inch Nails.  Their idea of a remix was light years ahead of the competition.  Instead of looping a solo or adding additional beats to a song and calling it a remix, this trio of producer/ musicians had a better idea. They stripped off all of the music, left the vocals and created their own new cacophony of loops, hooks, riffs, noise and beats. It was at this point, that Vig, Marker and Erikson realized that they had created a new sound. So they decided to form a band, but what name would they give it?  When a friend walked in on a remix session to see tape loops all over the mixing board and cool noises coming out of all the speakers, he exclaimed, "This shit sounds like Garbage!" The new band had their name. Today, Garbage (Butch on drums, Steve and Duke on guitars and lead singer/songwriter/guitarist Shirley Manson) have released several Grammy nominated, multi-platinum, critically acclaimed albums, recorded at Smart Studios. They have toured the world and even recorded a song for the evergreen film legacy James Bond with, "The World Is Not Enough".
Perhaps the greatest thing about Smart Studios is the fact that it's a studio shared comfortably by musical beginners and world-class rock stars. If you believe as this writer does, that a building has atmosphere capable of absorbing the personalities and emotions and music of its inhabitants, you will have no difficulty in appreciating the unique quality of Smart Studios. Perhaps, the only other recording studio in the world that can make this claim is… Abbey Road.
Be sure to check out the new documentary that tells the Smart Studios Story.
*2016 © The Rock And Roll Detective®